Ryan Watmough is the new Economic Development Officer for the Columbia Valley
Watmough brings 14 years of diverse involvement and flexibility in both businesses and non-profit organizations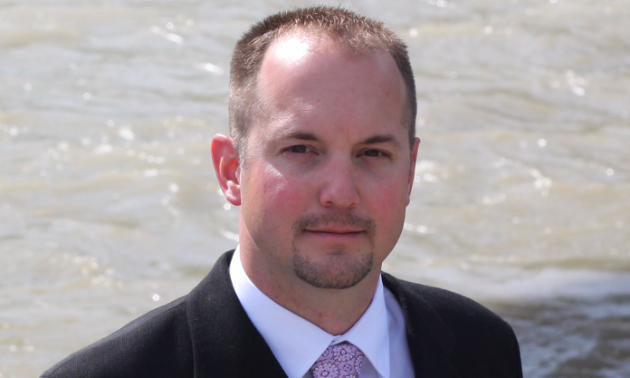 The Columbia Valley now has their long-awaited Economic Development Officer (EDO) in place. Ryan Watmough, of Golden, has recently taken that role with his hiring by the Regional District of East Kootenay (RDEK).
"As a community economic development (CED) practitioner, I believe that 'plugging the leaks' take priority over 'filling the bucket,' meaning that it is more impactful and efficient to focus on retaining existing residents and businesses before investing in attracting new residents and businesses," said Ryan Watmough. "If one can create a great place to live, then it becomes a great place to visit, or possibly to relocate."
Ryan Watmough's background:
Watmough brings 14 years of diverse involvement and flexibility in both businesses and non-profit organizations in a variety of positions. His education, thoughtfulness and approach have allowed him to progress and succeed in strategic roles from sales and marketing, procurement and administration, guiding and supporting a Board of Directors, an entire community and its elected and non-elected leaders.
Strategic Thinking:
Specifically related to strategic thinking, Watmough has created qualified 'needs data' and an assessment tool, which directed the reconstruction of two different grant streams in Golden (award over $300K/year). Working with Laurie Klassen from the Columbia Valley Community Foundation, he's led a "Better Granting Together" prototype, which has helped twenty funders from the Golden and Columbia Valley region to better understand optimal resource allocation, their theory of change, funding goals, administration, policy analysis and priorities for collaboration and innovation, resulting in improved granting alignment and reduction of both overlaps and gaps.
Community Planning:
On the leading edge of community planning, Watmough's led a multi-year, multi-phase project called "Community Collaboration," where capacity was increased and a community team/board is slowly forming. This project increased the awareness and cooperation between local, provincial and national organizations and government, developed stakeholders and volunteers, analyzed research and creatively disseminated the findings. Local groups have been encouraged to work together, and six courses from SFU's CED program were brought to Golden so that shared learning in the classroom translated to increased trust between key organizations. He hosted Mark Halwa and Pat Bavin as guest speakers on trails and arts & culture collaboration.
Key Data Collection:
In 2015 and 2016, with a particular focus on strategic planning and analysis, Watmough performed qualitative and quantitative data collection and analysis for a Capacity Building Needs Assessment in the Columbia Shuswap Regional District's Electoral Area A. He was able to take a significant amount of input from residents of Kicking Horse Country and simply quantify priorities for the Regional Director & Regional Government to ensure the process maintained integrity and authenticity.
Age Friendly Coordinator:
In 2014, Watmough completed Golden's Age Friendly Community Plan, ensuring that all community groups, businesses and the municipality work together enable older adults to age in place. As the current Age Friendly Coordinator in 2015, he helped to prioritize and resource projects championed by a variety of local stakeholders, including a group of physicians who are trying to improve "access to care" for all Golden residents, whether they can be cared for at home, at a clinic, the local hospital, regional hospitals or in Alberta. This work required a mix of strategic planning, diplomacy, research, partnership development, project management and communication skills. The AFCP continues to be followed by the Age Friendly Community Committee (AFCC) and used in grant project and program development.
Tourism and Economic Development Focus:
With more of a tourism and economic development focus, Watmough has completed a Business Support Services Review for Golden Area Initiatives. He was a member of the Town of Golden's Economic Development Services Vision Committee and Tourism Golden's Marketing Committee and he has worked as a consultant through the Basin Business Advisors program.
Micro destination development project:
As a rural representative on the B.C. Non Profit Sector Labour Market Partnership Project (also known as StepUp B.C.), Watmough was also a member of the Social Services Advisory Committee (including the Emerging Leaders, Marketing & Communications, and Sustainability Working Groups between 2011 and 2014). In his spare time, he volunteered to develop RiverfrontGolden.ca as a way of collecting and sharing planning and place-making opportunities in Golden & Area A—a micro destination development project.
"I'm very excited about the CED possibilities in the Columbia Valley, especially with Economic Development Officers (EDOs) in the Village of Canal Flats, Akisqnuk First Nation, and soon-to-be in the Shuswap Indian Band," Watmough said.
Ryan Watmough's new EDO position is based in Invermere.