City sells Fire Hall No. 1 to group using historic building to open 'Fire Hall Kitchen & Tap'
Fire Hall No. 1 was constructed in 1929 and was in use by Cranbrook Fire & Emergency Services until 2011.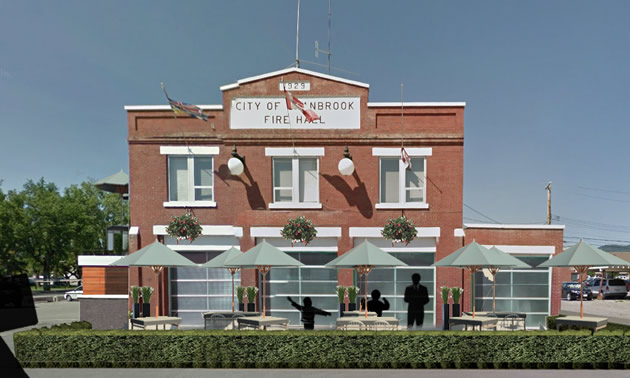 Cranbrook, BC (June 28, 2017) – The former Fire Hall No. 1 on 11th Avenue in Cranbrook is getting a new lease on life, thanks to its purchase by local business group Red Brick Enterprise Limited, with plans to turn the historic building into a restaurant and tap house to be called 'Fire Hall Kitchen and Tap'.
Owners Jesse Roberts and Fred Williams, who front Red Brick Enterprise Ltd. describe themselves as young entrepreneurs, husbands and dads that live, work and play in Cranbrook and region. Both have owned and operated businesses in the past and are aware of the many highs and lows that can come with these types of projects. Roberts and Williams are excited for the challenge and are thrilled to be the next custodians of the iconic building.
"By opening a Kootenay style restaurant and tap house we aim to restore this historic building to its former glory and make it more accessible to East Kootenay dwellers," says owner Jesse Roberts. "For its beauty, this building requires extensive work to ensure it stays with the community."
Fire Hall No. 1 was constructed in 1929 and was in use by Cranbrook Fire & Emergency Services until March 31, 2011, when operations were officially moved to the new fire hall on 2nd Street South.
"We are excited to join the ranks of the great businesses in Cranbrook's downtown core. These businesses and restaurants have started a trend toward local food and brews and we are excited to contribute," says owner Fred Williams. "We feel there is great potential in Cranbrook for an establishment that caters to families, foodies, outdoor enthusiasts, and professionals who enjoy a good brew in a casual setting. Ours will be an atmosphere worthy of the downtown and the bones of this building."
"We are very pleased that the fire hall has been purchased and will become a restaurant and tap house," says Mayor Lee Pratt. "Once the renovations are complete this will be a great addition to the business community and one more step to Council's goal and vision of the revitalization of the downtown core.
"City Council and the Mayor's office have been very supportive and with their help, we will begin construction as soon as possible to open for business in early 2018," Roberts notes, adding, "it is our promise that although we have purchased the building, it will always be your Fire Hall No. 1."