Speedpro Signs supersizes business messages
This signage and marketing company won a Platinum Best of Business award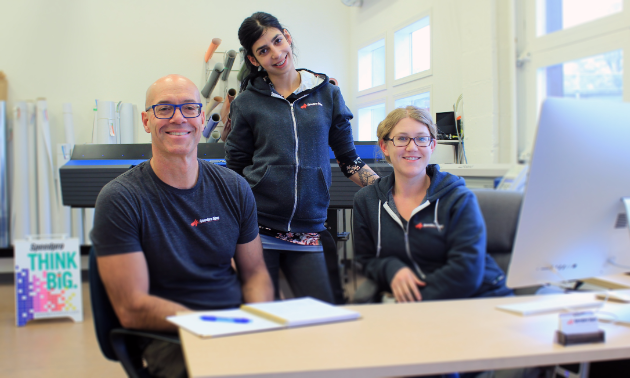 You only get a few seconds to make a first impression. Speedpro Signs in Nelson doesn't waste time or space in delivering clear, impactful messages. If they had their way, every word in this paragraph would be twice its size because they like to "print things big!"
Speedpro Signs specializes in design and signage. By providing creativity and strategic expertise, they have brought magnetic appeal to a multitude of businesses. The company's attention to detail and customer service have also yielded a Platinum award in the Sign Company category of Kootenay Business' Best of Business Awards for 2017.
Murray Kimber is the owner and creative director for Speedpro Signs. He discussed big ideas and how to wrap things up.
Tell us a fun fact about yourself.
I used to illustrate children's books.
How has your business evolved over time?
We're working to be viewed as more of creative agency and marketing company than just a sign company. Our clients are generally small businesses, meaning they have a diverse range of needs to promote and market their products and services. We want to be the first company they call to bring their vision to life. We love big ideas!
What's a recent trend in your business that you're excited about?
Car wraps have evolved into wrapping lots of other things—furniture, building exteriors, floors and sidewalks. We recently wrapped an entire hallway of lockers at Selkirk College.
What activity is your passion outside of work?
I'm an artist at heart but—given that I live in the Kootenays—I'm also mad about mountain biking. I have also discovered how much fun Tough Mudders are!
Who is your hero and why?
Woody Allen—a creative force as a comedian, writer, director and actor. And because the day he turned 50 he still looked like a leprechaun.