Recycling is a passion at Ernie's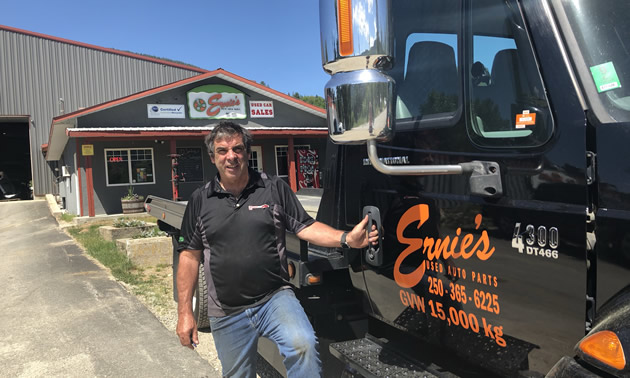 Recycling is at the heart of Ernie's Used Auto Parts
Having worked in the automotive industry since he was a teenager in the '70s, Stuart Ady grew up absorbing the concept of "greener" business practices. Ady is the owner of Ernie's Used Auto Parts in Castlegar, and in 2019, the company's 45th anniversary year, protecting our environment is still a priority for him.
To help make that point, Ady prefers to say "recycled" rather than "used" when referring to his merchandise. As well as reducing the need for the industry to produce new parts, recycling perfectly good auto parts is a way of keeping the customers' costs down. For Ady, both factors are important, and he'd like to spread the idea as a component of great customer service.
"Everything we do here takes the environment into account," Ady said. "It's huge that people understand that when they buy a part here, not only are they saving money, they're also contributing to the cause of their environment. We also have an oil and antifreeze drop-off station for the public."
For Ady, the most important service provided by Ernie's is saving money for the customer. An estimate for repairs to a vehicle that's been in an accident will come in lower from Ernie's than an estimate from a company that uses new parts, and that means that the insurance company will sometimes pay for repairs rather than writing the vehicle off.
Ernie's is a place of opportunity for young people interested in the industry, and Ady said that about 75 per cent of his employees are under the age of 30.
"We hire a lot of younger people who come in as entry-level automotive industry workers," he said. "Many of them are just sorting out their long-term career interests, and we don't mind. We give them some good training."