Assante Financial Management Ltd.
Assante Financial Management Ltd.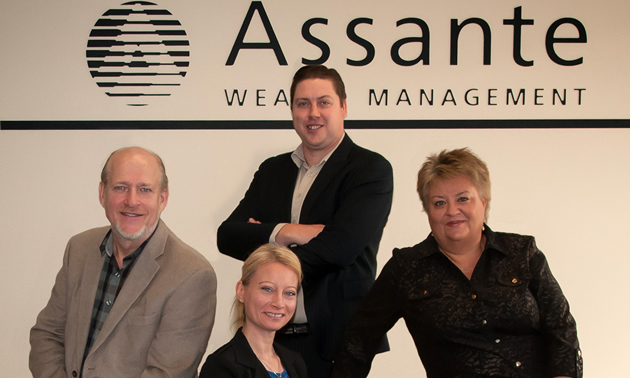 Customer benefit comes first for Assante Financial Management Ltd.
If you open up any financial newspaper or magazine these days, there is a lot of buzz among investors and advisors on the hot topic of new disclosure rules and fees within the investment industry. Assante Wealth Management Ltd. in Castlegar has been well ahead of its peers with a unique business model that sets it apart from other wealth managers. The partners took a bold step away from working in a traditional commission-based financial planning practice and have been offering a customized fee-based service platform to their valued clients.
There are certainly pros and cons to any method of charging and delivering services, but the Affolter team believes there are baked-in inequities and conflicts of interest in a compensation model in which they are paid solely as a percentage of assets under management. Commissions create an inherent conflict of interest in the relationship with the client, which is inconsistent with providing and obtaining objective advice.
What Assante Financial Management Ltd. in Castlegar has created is a well-balanced menu of advice-driven services. Clients are able to choose their level of services and expectations from year to year. Assante is there to deliver that specific experience for an annual flat fee, regardless of the value within a client's investment portfolio. The pillars of the Assante service offerings are professionalism, accountability and transparency, ensuring there is no conflict of interest when providing financial advice.
"We are getting compensated in a way that is not influenced by the sale of product," said Collin Ludwar, B.Comm, CFP and CHS. "Our goal is to attract lifelong relationships. When someone hires us they can rest assured that the advice we give them is for their best benefit, not for ours."
"It is the big-picture planning that we do," said Debbie Perepolkin, CFP. "The client gives us information about what's going on in their world, and we know our advice will have an impact on many different facets of their life—it's all integrated."
"We also act as a liaison and resource for our business-owner clients," added Monique Lynn, the team's newest partner. "We connect them with other professionals they might need, like accountants and lawyers. We have access to these resources through our head office."
Since 1998, Assante Financial Management Ltd. in Castlegar has been providing high level service and advice to clients throughout the Kootenay area, the Okanagan, Lower Mainland and Alberta. This team is positioned to serve their clients well.
This material is provided for general information and is subject to change without notice. Every effort has been made to compile this material from reliable sources; however, no warranty can be made as to its accuracy or completeness. Before acting on any of the above, please make sure to see a professional advisor for individual financial advice based on your personal circumstances.