Strategic Fire Control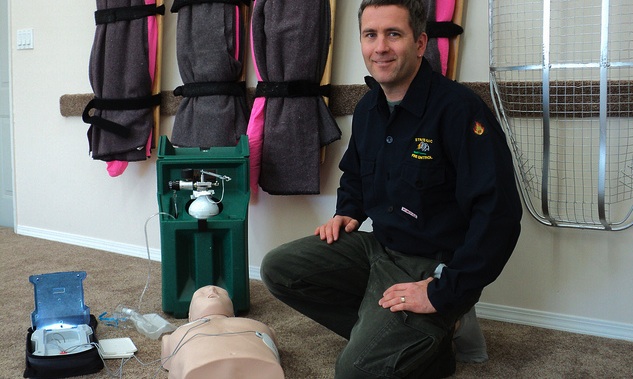 Mike Effray, owner and operations manager of Cranbrook-based Strategic Fire Control, has one of the hottest jobs in the market today. Literally. Responsible for organizing and supervising firefighting crews during the peak of the forest fire season, Mike enjoys being based out of the Kootenays, working outdoors on challenging projects and occasionally commuting to work by helicopter.
Can you please provide a short bio of who you are and what your job entails?
Mike Effray, owner and operations manager of Strategic Fire Control. I organize fire crews and supervise crews during the forest fire fighting season. I am also involved in various safety training courses which we host (both administratively and as an instructor) and am also busy working in the outdoors doing various forestry-related projects.
What is the favourite part of your job?
I enjoy working together with people in a team effort and especially enjoy the firefighting in the summers. I enjoy working outdoors and in projects that are challenging, being in a job that allows me to be based and work in the Kootenays but also get to travel and see many areas of the province.
What do you enjoy about living in the Kootenays?
The Kootenays have amazing outdoor opportunities. From the lakes, rivers and streams to the valley and mountains, the views, recreational pursuits and wildlife are amazing.
What tips would you give to someone looking to get into your career (What training/education helped you)?
Take some first aid training courses. We always find that we need people who are trained and certified to work on our projects. This opens many doors for employment.
Get good people skills. Take the time to get to know and interact with others in a positive manner. Having a positive attitude makes things go smoothly with others on your work team, but it also catches the attention of those looking for people.
Get training early. Don't wait for the demand of a busy season to get training, as it may be too late. Get the training early on before a busy time of season, and be prepared for when the need arises.
Is there anything else you'd like to mention?
Firefighting in the summer is a great job, and we are always looking for more people in the summers. There are opportunities for being outdoors, seeing many areas of the province, working as a member of a team, overtime pay that adds up, and opportunities for travelling in a helicopter to get to job sites. Great experiences abound and no previous experience is necessary; we provide the training.