Are you mountain modern?
Kimberley's architecture is about to become more diverse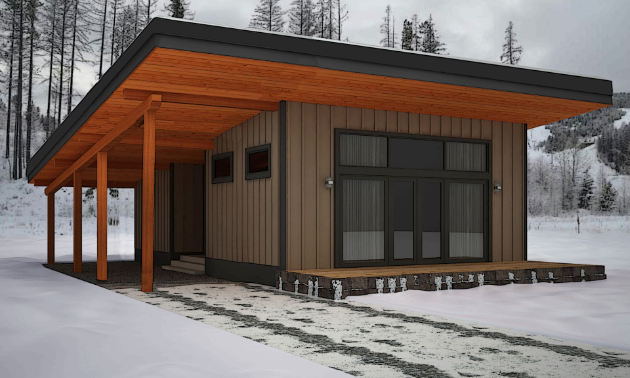 Don't you wish you could live at the Kimberley ski hill? It's full of fun-loving adventurers like yourself, but there hasn't been any new developments in the area—until now. Tyee Homes' new base camp homes will soon be available for viewing and purchase at the Kimberley Alpine Resort.
"We thought we needed to do some diversification of the architecture in this area," said owner of Tyee Homes, Carl Lauren. "We call it mountain modern. It's what people are going to want moving forward, if they don't already want it now."
These new-look homes aim to grab people's attention, especially for Kimberley-seeking residents to the east. "A lot of people from Alberta haven't been exposed to this sort of architecture," said Lauren.
The base camp homes will come in a choice of four options, but Lauren anticipates the Expedition model to be the most popular. " It'll be our most economic model," he said. "I see the price range of our Expedition and what you get with it being the most appealing."
The Tyee Homes show home will be combined with the company's sales office and will feature the Expedition model. Lauren is hoping to have the home ready to show off on opening day for the ski hill.
Customization is part of Tyee Homes' framework, and buyers will have some options to explore. "We allow a client-builder discussion about small amounts of customization," Lauren said. "There's flooring, countertops and paint selections they can choose from."
To sum up what separates Tyee Homes' Base Camp homes Lauren said, "They're different, and they're cool in their difference."
To find out more about Tyee Homes' Base Camp homes, go to BaseCampKimberley.com