Support for industrial training
David Wilks, MP Kootenay-Columbia, announced federal funding for the industrial training program at COTR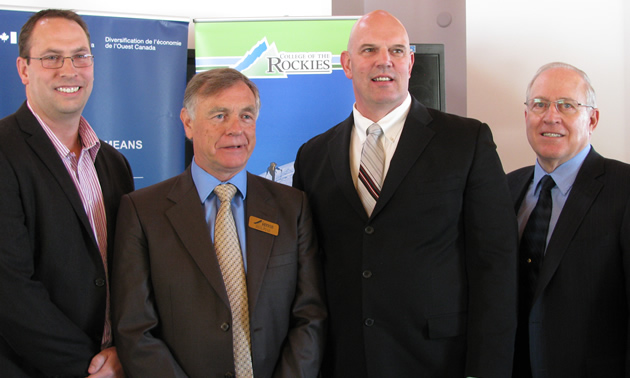 The haul-truck operator program at College of the Rockies (COTR) has become a driving success since it began in 2013, largely because of the virtual training that students receive in the haul-truck simulator. The program was launched in 2013 with an investment of $1.7 million from the federal government and grants from the B.C. government and Columbia Basin Trust of more than $500,000 each. As announced recently, the federal government has stepped up with more cash.
Kootenay-Columbia MP David Wilks spoke to the media at COTR on March 3, announcing that the federal government has committed $350,000 to the industrial training programs at the college. Columbia Basin Trust has again come forward with funds, adding $100,000 to its previous investment.
Leah Bradish, director of continuing education, contract training and regional campus operations at COTR, said that the additional funding will allow the purchase of new software that will convert the haul-truck simulator into a simulator for other heavy equipment—bulldozer, grader and excavator—thus making a wider variety of training available.
"These simulators and the different software packages that we will be buying with the funds will allow us to prepare our students to work in a variety of industries," Bradish said. "The critical message we're getting back from industry is that simulation is a great start, and they're excited about it, but students also need to get hands-on experience in the seat."
Bradish said that curriculum development for the industrial training program is supported by expert mentoring from industry partners, including Emcon Services Inc. and Fiorentino Brothers Contracting Ltd.
"We're tapping into Emcon for the road building and road maintenance side, we're talking to Fiorentino Brothers about the forestry side, and of course we have a relationship with the mines," she said.
The industry partners get to experience the simulator so that they know the kind of training that the operators will have before they get to a real job site. They provide feedback on the areas where they see shortages and the need for upgrading.
"The simulator will allow the operators to hit the ground running when they are hired for a job, and will save both training time for the employer and wear and tear on equipment," said Bradish.