Lodging ranks No. 1 in B.C.
Elizabeth Lake Lodge has completed its third and final expansion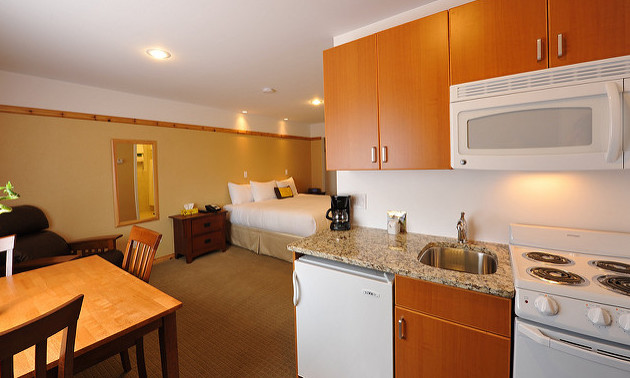 One of Cranbrook's most popular lodging choices, Elizabeth Lake Lodge, has now completed its third expansion.
Located at the west entrance of Cranbrook, the awarding-winning lodge is owned and operated by George and Rachel Freitag. Currently at 24 rooms, once the expansion is complete the lodge will have 28 rooms.
"This expansion is part of our overall vision when we first built Elizabeth Lake Lodge," said George.
"This is our third and final project. Each year we have been upgrading something at the Lodge, whether it's the mini-golf, the rooms or our other two expansions over the last few years."
The expansion includes four new two-bedroom suites as well as a generously equipped fitness centre. The new rooms feature amenities like heated towels, heated tile floors and Denby dishes from England.
The Lodge has won the coveted Trip Advisor Travellers' Choice Hotel Award seven years running and six awards from the Cranbrook Chamber of Commerce. Talking about Trip Advisor, the popular website lists over 1,220 accommodation properties in B.C. and over the last eight months Elizabeth Lake Lodge has ranked No. 1.
Elizabeth Lake Lodge boasts the finest beds in Cranbrook—guaranteed. The majority of rooms have a full kitchen and all of the rooms have a view of the Elizabeth Lake Bird Sanctuary. The Bird Sanctuary is adjacent to the Lodge and a very easy walk for everyone.
"Our business clientele appreciate a fast and reliable Internet connection," said George. "We offer 250-MB Shaw Internet and a secondary Telus feed for instant connectivity. Both connections are managed by a state-of-the-art Cisco system and firewall, so every guest has a dedicated, secure tunnel to the Internet."
Traveling, whether for leisure or business, doesn't mean we have to leave our green habits at home. Elizabeth Lake Lodge is a member of the Green Key Eco-Rating Program. This program recognizes accommodation providers who are committed to improving their environment performance.
Make the award-winning and comfortable Elizabeth Lake Lodge your accommodation of choice.