Cold weather heating tips from the experts
The new owners of M&K Plumbing and Heating share some cold weather heating tips for businesses and homeowners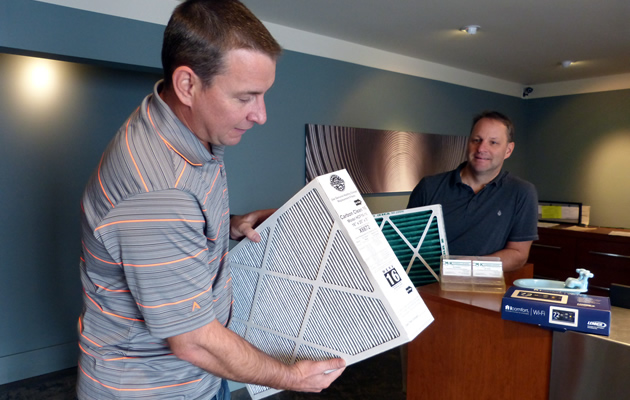 As summer draws to a close and we approach the cold weather season, it's time to start thinking about heating systems. For the past five months, most of us probably haven't thought twice about our furnace, but we expect it to work when the first freeze hits and temperatures in our home or office start to drop.
The heating specialists at M&K Plumbing and Heating, a Cranbrook company that's been around for 53 years, recommend booking a pre-season service before the cold weather season arrives. This takes about an hour and includes a full inspection of your furnace as well as a safety test and filter replacement. According to Roy Needham, who is a co-owner of M&K, it will save you money in the long run.
"A huge part of energy savings is the maintenance on the equipment," said Needham. "Dirty filters equal higher gas bills and an inefficient unit."
Companies like M&K also offer preventative maintenance service packages that include pre-scheduled inspections, cleaning and filter replacement.
To curb energy costs throughout the winter, Needham suggests installing a programmable thermostat, and if you already have one, he said, make sure the settings are adjusted properly. It's easy, especially if you are in a hurry, to leave your home or business and forget to turn down the furnace. For a business that closes at night, a programmable thermostat is the ideal way to ensure the furnace doesn't work overtime when the building is unoccupied.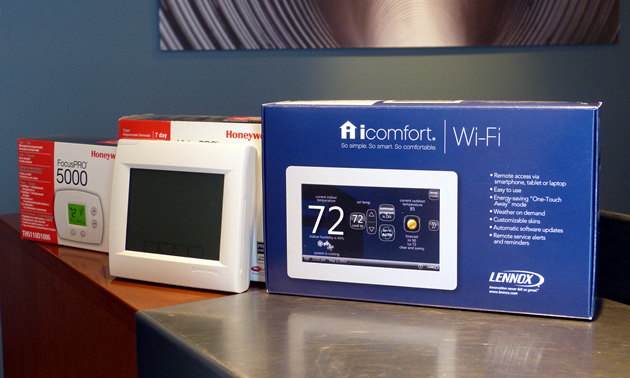 There are simple things you can do to keep energy costs down as well.
"The first thing, if you're cold, is to throw a sweater on before turning up the thermostat," said Needham.
It may seem like common sense, but it's important to dress properly for your work environment and the season.
When it's time to upgrade
No matter how well maintained your furnace is, however, there will come a time to replace worn-out equipment. There are several brands on the market, and a mechanical specialist can help you choose which high-efficient model will be best for your home or building.
For new homes and businesses under construction, the options range from conventional furnaces and boilers to alternate energy sources, like solar and geothermal.
In the Kootenays, geothermal heating is gaining in popularity, but according to Jim Larson, who is the other owner of M&K, this method is fairly expensive to install. It offers many benefits, but because the system spans so much underground area, businesses that are within city limits may be limited due to bylaws against drilling.
"Typically, geothermal systems are installed in the rural, outlying areas," said Larson.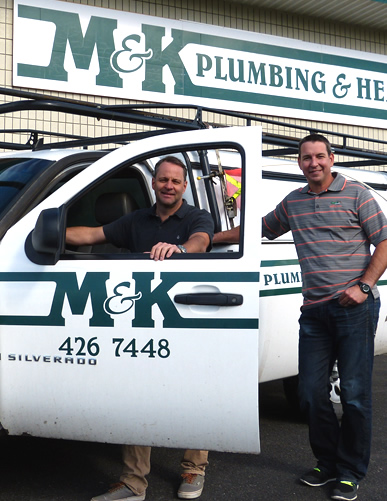 Fort Steele Heritage Town is a prime example. Two years ago, the Friends of Fort Steele Society worked with M&K to design and install a geothermal heating system in the historic Wasa Hotel. It was a success, and Larson said he was glad to be a part of it.
From tradesmen to business owners
Over the years, Larson and Needham have worked on several large projects throughout the region, including a major upgrade to the welding shop at Elkview mine in Sparwood.
Back then, Larson and Needham were employed by M&K as tradesmen. They only just took over the company on May 1, 2015, but since then the transition from tradesmen to business owners has been a smooth one. Both are excited to move forward.
"The solid foundation with M&K has been there for years," said Needham, "and I just see lots of opportunity locally. You can see an upswing in the economy here, I think, as far as outside investment coming in and people moving in, bringing that injection of investment into the area."