Nakusp's Waterbridge Steel constructs and launches new ferry at Glade
All new vessels are scheduled to be in service by the end of 2019.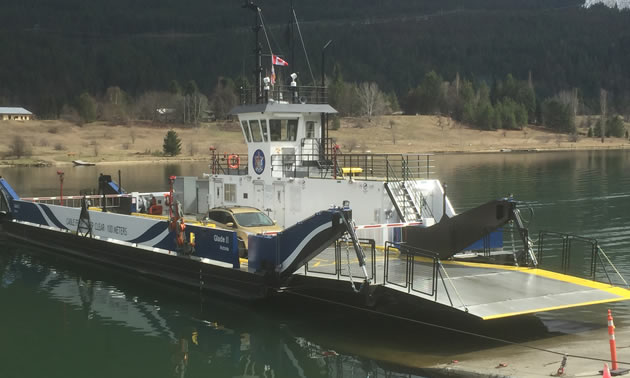 The West Kootenay community of Glade, located halfway between Nelson and Castlegar on the Kootenay River, is now being serviced by a newly constructed, modern cable ferry called the Glade II. The vessel, which replaced an aging ferry, was launched earlier this year in the January/February timeframe.
This is the second of four ferries that have been built by Waterbridge Steel in Nakusp to enter service on inland routes.
"This new, state-of-the-art ferry gives West Kootenay residents the comfort of knowing they can get groceries, attend medical appointments and access other important services when they need to," said Claire Trevena, Minister of Transportation and Infrastructure. "This ferry will not only help residents get from A to B, but will also ensure a safe, reliable and efficient crossing of the Kootenay River for many years to come."
The new Glade ferry is larger and can carry more vehicles than the former ferry, with capacity increased to handle commercial vehicles at full highway loads as well. The Glade II has a capacity of 10 vehicles and 48 passengers. The maximum load capacity of the vessel is 63,500kg.
In addition to the new ferry now operating at Glade, Waterbridge is building ferries to replace aging vessels serving Harrop/Proctor, on the Kootenay River, and at Arrow Park on Arrow Lake. Another newly constructed ferry was also launched to serve Adams Lake last spring.
"West Kootenay residents have been eagerly awaiting the completion of these new ferries to better connect communities across the region and facilitate day-to-day travel," said Katrine Conroy, MLA for Kootenay West.
Waterbridge was awarded a $27.9-million contract in 2016 to design and build the four new cable ferries. All new vessels are scheduled to be in service by the end of 2019.
The project created about 30 jobs for four years during the construction in Nakusp, said the Minister.