Massive new Revelstoke Adventure Park being proposed
The adventure park would offer recreational activities such as hiking, sightseeing, bungee jumping, zip lines and rock climbing.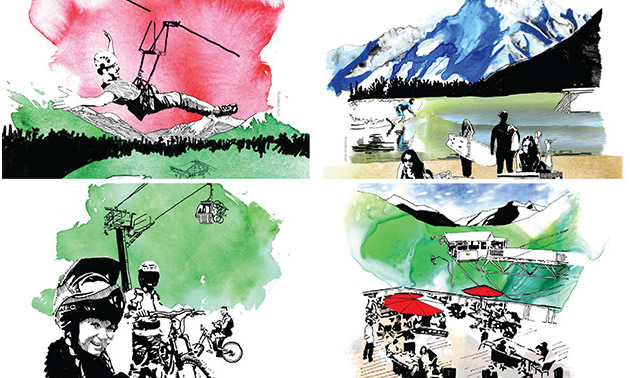 Revelstoke's Black Tie Properties is looking at developing a massive new adventure park near Revelstoke, fronting the busy Trans-Canada Highway. Here is how the company describes the proposal, "Nestled on a breathtaking site in the Selkirk Mountains, on the North side of Revelstoke Mountain Resort, Revelstoke Adventure Park (RAP) is to be developed on 69 ha of private land and 257 ha of adjoining Crown land.
RAP's location is easily accessible from the Trans-Canada Highway and thus perfectly positioned to capture both thrill-seekers and nature-admirers among the millions of people who pass through Revelstoke each summer season.
RAP offers recreational activities spanning all skill levels, from hiking and sightseeing to bungee jumping, rock climbing, zip lines, ropes courses, and mountain biking. This unique slate of activities all in one location combined with incredibly easy access on a major national thoroughfare makes RAP a singular offering within Canada."
Black Tie Properties is looking to locate RAP on land owned by parent holding company Illecillewaet Development in the Greeley Meadows region, plus on an addition to 283 hectares of Crown land adjacent to the private property, including the northern base of Mount Mackenzie.
The Greeley area is located about 10 kilometres east of Revelstoke on the busy Trans-Canada Highway which sees over 6 million vehicles pass by every year. It is on level land bordered by the Highway #1 with the Illecillewaet River on one side and Mount Mackenzie situated on the other.
Black Tie Properties has recently submitted the plan to the B.C. Ministry of Forests, Lands and Natural Resources which includes an Adventure Tourism Tenure application.
The proponent is suggesting when fully developed RAP could employ 150 to 160 employees in peak season.