Kootenay Rockies Tourism Introduces 2017/18 Board
Kootenay Rockies Tourism introduced their newest director, Barry Zwueste, CEO of the St. Eugene Mission Resort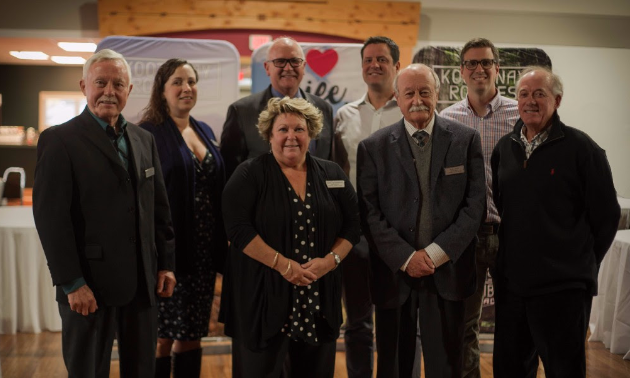 Kootenay Rockies Industry Conference & AGM concluded on Wednesday, October 18th. Over 100 delegates attended from across the Kootenay Rockies region to hear from a lineup of informative presenters focussing on trends, changes within the industry, marketing opportunities and programs.
The Kootenay Rockies also selected a new board of directors, who are:
Pictured above -- left to right (back row):
· Secretary/Treasurer - Douglas McIntosh, President Chattan Holdings Ltd, Lake Windermere Resort
· Director - Andrea Tubbs, Director of Sales & Marketing, True Key Hotels & Resorts
· Director - Barry Zwueste, Chief Executive Officer, St. Eugene Golf Resort Casino
· Vice-Chair - Tom Rosner, VP Marketing & Sales, Resorts of the Canadian Rockies
· Director - Nicholas (Nico) Leenders, Marketing Manager, RMR & Selkirk Tangiers HS
Pictured above left to right (front row):
· Vice-Chair - Nancy Hetherington, Director of Sales & Marketing, Fairmont Hot Springs Resort
· Chair - Mike Smith, Owner Links Consulting
· Director - Ken Wilder - Executive Director, Invermere/Panorama DMO
Missing from photo: Director - Tyler Beckley, Owner, Three Bars Guest Ranch

Kootenay Rockies Tourism also introduce their newest director, Barry Zwueste, CEO of the St. Eugene Mission Resort. Here's some background on Barry:
Barry has an extensive and successful background in the tourism and hospitality industry, primarily in Alberta and British Columbia. He is currently serving as a Director for the BC Hotel Association following a twelve-year Board position with the Alberta Hotel and Lodging Association where he ascended to the position of First Vice-Chair. He has also held positions as Chairman of their Finance, Government Relations and Membership Services as well as Chairman of their Destination Marketing Fund Review Task Force. He was awarded a Life Membership by the AHLA in 2012.
Barry is currently C.E.O. for St. Eugene Golf Resort Casino, which in addition to the fabulous amenities that already exist at the resort, has under his direction, added a new 120 site RV Park. In the spring of 2018, St. Eugene will be adding a unique, hands-on, experiential Ktunaxa First Nations program, which will provide Ktunaxa experiences including an authentic overnight tipi experience. Prior to joining St. Eugene, Barry has held senior executive positions at prestigious resort and city-centre hotels across Canada primarily with the former Canadian Pacific Hotel family.
Barry's election to the board replaces myself—Keith Powell, who had served on the KRT board for 28 years. We wish Barry and KRT board much continued success. Kootenay Rockies Tourism is based in Kimberley.