Help shape how Columbia Basin Trust supports you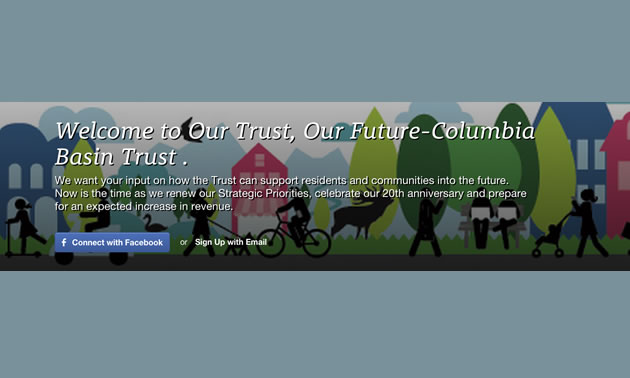 (Columbia Basin) – Columbia Basin Trust is asking residents where it should focus its efforts to best support residents and communities in the Columbia Basin now, and into the future.

The Trust is kicking off a year-long Basin-wide public engagement process starting with a series of drop-in community workshops and an interactive engagement website. Called "Our Trust, Our Future," this process will connect the Trust with residents to find out what's important to them and build on the input they may have provided in the past.

"We'll be connecting with Basin residents to reflect and celebrate our collective accomplishments over the past 20 years, and also to imagine what the next 20 might look like," said Greg Deck, Columbia Basin Trust Board Chair. "In the next three to five years the Trust's revenues are expected to double. As our delivery of benefits to the region grows, it's important that residents continue to provide guidance in charting that future."

The Trust will be reaching out in various ways across the Basin. Expect to find the Trust hosting drop-in community workshops, presenting at community and agency meetings or staffing a booth in a public space. Residents can also send comments by mail or provide their thoughts online. Everyone who participates will have a chance to win $1,000 to donate to a local non-profit of their choice.

"Some residents have already provided input to us in the past—now we want you to expand on those ideas," said Neil Muth, Columbia Basin Trust President and CEO. "What's most important to your community? What should we do more of? What are your ideas? We hope you will be part of this conversation and help us shape how we support your efforts now, and into the future."

For more information about the process and to have your say in person or online, visit ourtrustourfuture.cbt.org.
BACKGROUNDER: OUR TRUST, OUR FUTURE ENGAGEMENT PROCESS

1. What is the purpose of this engagement?
To seek input from a diverse cross section of Basin residents to help inform the Trust's priority setting, decision-making, planning and delivery mechanisms.
2. What are the goals of the engagement process?
Goal 1: Reconnect and renew the Trust's relationship with Basin residents.
Goal 2: Identify Strategic Priorities based on resident input.
Goal 3: Identify options to address Strategic Priorities into the future.
Goal 4: Create action plans based on the above.
3. Why is the Trust engaging now?
We are celebrating the 20th anniversary of the creation of the Trust in 2015;
We are renewing our strategic priorities in 2015; and
We expect our revenues to double to $55 million in the next three to five years.
4. What is the Trust specifically looking for input on?
We are asking communities where they are focusing their efforts, where they need support, what is most important to them in their community and for their ideas about working together now and in the future.
This input will help us determine where to focus our efforts and how we can continue to support communities now and into the future.
The Trust is not soliciting input or considering changes to foundational documents such as the Columbia Basin Trust Act, or operational policies and procedures governing the Trust's investment activities.
5. What is the process?
Phase One (Sep 2014 – Feb 2015) focuses on connecting with residents Basin-wide to have a conversation about their priorities and ways the Trust can help now and into the future. It will include comprehensive engagement opportunities, both in-person and online, including community workshops and meetings with community groups.
Phase Two (Mar – Jun 2015) brings groups together on a regional level to narrow down the specific priorities and build recommendations to renew the Trust's strategic priorities and how we work with communities.
Phase Three (Jul – Oct 2015) is an internal phase to build action plans for the Trust to implement the recommendations. These may address potential changes to our strategic planning processes, decision making, delivery models, organizational structure, etc.
6. What are the deliverables?
Engagement Report will summarize the engagement process, input received from Basin residents, and recommendations on how the Trust will support communities now and into the future.
Renewed Columbia Basin Management Plan Strategic Priorities (2016-2020)
Action Plans will describe how the Trust will operationalize the key recommendations and input it has received from Basin residents.
7. How can residents get involved and have their say?
Drop-in community workshops (see the schedule below)
Meetings in smaller communities around the Basin
Visiting the Trust booth in community public spaces
Hosting a self-directed discussion
Online: ourtrustourfuture.cbt.org
Mail: Attn: Our Trust, Our Future, 300 – 445 13th Avenue, Castlegar, BC V1N 1G1
Email:

[email protected]
| | | | |
| --- | --- | --- | --- |
| Community | Date | Location | Time |
| Burton | October 14 | Burton Community Hall | 4-8pm |
| Castlegar | December 3 | Castlegar & District Community Complex | 11-2pm and 4-8pm |
| Cranbrook | January 20 | Cranbrook Railway Museum | 11-2pm and 4-8pm |
| Creston | December 1 | Creston & District Community Complex | 11-2pm and 4-8pm |
| Edgewood | October 16 | Legion Hall | 4-8pm |
| Golden | September 18 | Seniors Centre | 11-2pm and 4-8pm |
| Invermere | January 21 | Lions Hall | 11-2pm and 4-8pm |
| Jaffray | December 3 | Jaffray Community Hall | 11-2pm and 4-8pm |
| Kaslo | October 29 | Legion Hall | 11-2pm and 4-8pm |
| Meadow Creek | October 30 | Lardeau Valley Community Club | 4-8pm |
| Nakusp | October 15 | Nakusp Community Centre | 11-2pm and 4-8pm |
| Nelson | October 15 | Nelson Rod and Gun Club | 11-2pm and 4-8pm |
| Revelstoke | October 30 | Revelstoke Community Centre | 11-2pm and 4-8pm |
| Sparwood | November 26 | Sparwood Recreation Complex | 11-2pm and 4-8pm |
| Trail | November 26 | Cominco Arena Gymnasium | 11-2pm and 4-8pm |
| Valemount | September 24 | Valemount Community Hall | 11-2pm and 4-8pm |