Eagle Pass Lodge celebrates grand opening of new day lodge
Eagle Pass Lodge welcomes adrenaline chasers, trailblazers and peaceful solitude seekers to the lodge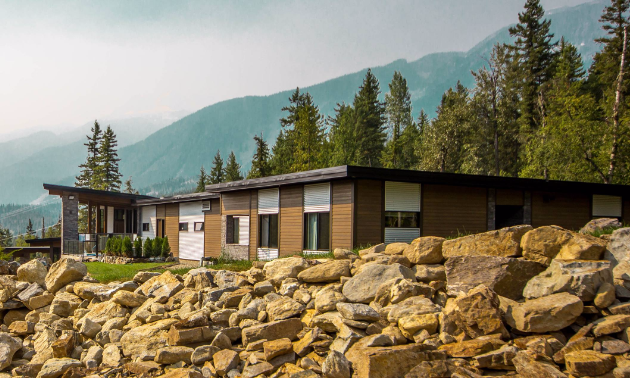 Eagle Pass Lodge near Revelstoke celebrated the official grand opening of their new day lodge in June 2017.
Located in the heart of the Monashee Mountains in beautiful Revelstoke, the boutique Eagle Pass Lodge welcomes adrenaline chasers, trailblazers and peaceful solitude seekers to the lodge.
Eagle Pass Lodge's idyllic location has been carefully selected to ensure the utmost privacy in the very heart of nature, with all the modern conveniences you could desire.
Their winter season runs from December to April. The Lodge hosts 12 heli skiers at a time, providing them with an all-inclusive, unlimited vertical powder-filled trip of a lifetime. In summer, the Lodge will play host to weddings and special events and will act as a luxury base camp for mountain bikers, motorcycle tours, and adventurers.
Eagle Pass Lodge is a private estate situated on eight acres overlooking the Columbia River Valley, just eight kilometres (five miles) south of Revelstoke, B.C.
Here is how their website describes the property, "The luxurious 12 bedroom Eagle Pass Lodge offers specific gear-drying and tuning rooms, is equipped with its own private heli pad, a private executive chef on-hand to create healthy gourmet meals with locally sourced ingredients, dining room and full bar with a brilliant local and international wine menu. To help unwind after a long day of heliskiing, enjoy a relaxing massage or take in picturesque views of the iconic Mount Begbie and Monashee Mountain Range from the in-ground hot tub."
Watch a video of their construction: https://vimeo.com/220720613