Construction of Trail's Riverfront Centre Well Underway
The Riverfront Centre is coming to Trail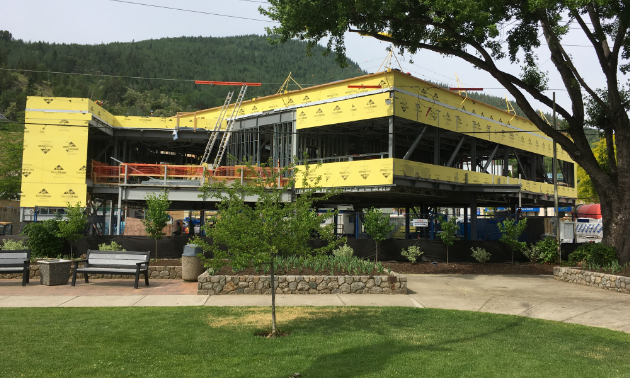 Construction on the City of Trail's new $8.3 million Riverfront Centre is well underway. This comes on the heels of the official opening of the city's new Skywalk project which spans the Columbia River.
Last fall the City of Trail and Teck announced $1.6 million in funding for the Trail Riverfront Centre, a new integrated library and museum facility that will enhance cultural and educational experiences for the community and anchor revitalization of Trail's downtown core.
Teck will provide an initial donation of $500,000 in 2016, with the balance borrowed by the City of Trail and repayment supported by Teck donations over a multi-year term. The total cost of the Riverfront Centre is approximately $8.3 million. The other major funding partner is Columbia Basin Trust.
"Trail City Council is very pleased that Teck Trail Operations, who have generously supported many of the city's civic facilities in the past, is making a significant financial contribution to a facility that takes design inspiration from Trail's Heritage and industrial roots," said Mike Martin, City of Trail Mayor. "Through this generous contribution, Teck Trail Operations has engaged the community in a meaningful way. We are absolutely delighted, that with this support, we are able to provide the citizens of Trail and surrounding communities with a modern and vibrant facility offering engaging museum exhibits and contemporary educational resources. The new amenity will strengthen community spirit and civic pride while creating a welcoming and safe gathering hub in Trail's downtown core."
A section of the facility will be named for Teck in recognition of the company's support of the project and its role as one of the leading private sector partners for the community.
"As a dedicated partner in the Greater Trail area for 120 years, we are proud to support the Trail Riverfront Centre, which will help foster an enriched and sustainable community," said Thompson Hickey, General Manager, Teck Trail Operations. "This facility will promote learning experiences in a setting that celebrates the region's rich history and provides a gathering place for the community where many of our employees proudly live and work."
The contract for construction was awarded to Ledcor Construction Ltd. Construction began early October (2016) with completion expected to be in late 2017.