CMH wins the Gordon Wilder Memorial Award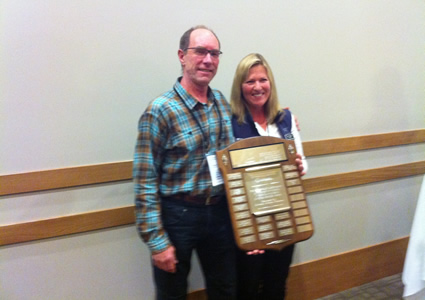 Canadian Mountain Holidays (CMH) based in Banff but operating primarily in the mountains of the B.C. has been awarded the 2012 Gordon Wilder Memorial Award. The award was handed out at the annual general meeting of Kootenay Rockies Tourism, held last week at the Kimberley Conference Centre. CMH guide and representative Dave Cochrane was on hand to accept the award on the company's behalf.
CMH was recognized for the pioneering of heli-skiing in the Rockies and their world-wide promotion of the sport. Their innovation and vision has made the Kootenay Rockies not only the birthplace of heli-skiing but also the world's premiere heli-skiing destination.
The award was presented by Anne Pigeon, second vice-president of Kootenay Rockies Tourism and marketing director of Whitewater Ski area near Nelson. The Gordon Wilder Memorial Award is presented annually by Kootenay Rockies Tourism. It recognizes significant achievement in support of tourism in British Columbia's Kootenay Rockies region.
The award is named after Gordon Wilder, who was the director of marketing for Fairmont Hot Springs Resort. He died during a flight on his private plane, on his way back to Fairmont from Calgary, to attend a Kootenay Rockies AGM on October 21, 1988.