Bringing the Kootenays to Fort McMurray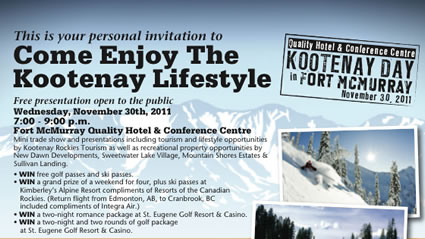 Kootenay Business magazine is hosting Kootenay Day in Fort McMurray at the Quality Hotel and Conference Centre Wednesday, November 30th from 2 to 4 p.m. (mix and mingle) and then again from 7 to 9 p.m. (presentations and displays).
"We are calling it the Kootenay Trade Initiative and Delegation to Fort McMurray. We are bringing the Kootenays to Fort McMurray," said Keith Powell, publisher of Kootenay Business magazine. "We know that there are many existing ties between Cranbrook, Kimberley and the Kootenays with Fort McMurray as we have a number of people who travel into the community for employment and many others from Fort McMurray who vacation or own second homes in the Kootenays."

He continues, "We would like to open more connections between the two communities for the mutual benefit of both areas. This is an ideal opportunity to begin making those important connections."

With the advent of the Integra Air flights out of the Canadian Rockies International Airport it makes connecting to Edmonton and Fort McMurray easier and quicker. Integra Air is currently exploring direct flights to Fort McMurray.

In attendance at the event will be Kootenay Rockies Tourism; City of Kimberley representatives, OKKO (Sullivan Landing) developments, New Dawn Developments/Panorama Resort, Tourism Kimberley/Resorts of the Canadian Rockies (Fernie and Kimberley Alpine Resorts), Mountain Shores on Kootenay Lake, Integra Air, Sweetwater Lake Village at Koocanusa Lake, United Community (Forest Crowne) and Kootenay Business magazine.

Kootenay Day in Fort McMurray will be offering great door prizes: Free ski and golf passes, a grand prize weekend at the Kimberley Alpine Resort for four including ski passes, luxury accommodation and flights on Integra Air are just some of the prizes being offered.

The organizers believe this is only the first step in developing stronger connections between Fort McMurray and the Kootenays, and it may lead to further initiatives in the future. The Kootenays is rich in natural resources, as is the Fort McMurray area—so many similarities exist between the two regions.