#BCGO Tour brings business opportunities to local tech innovators in Nelson
More than 50 local innovators and eight presenting companies attended the second stop on #BCGO Tour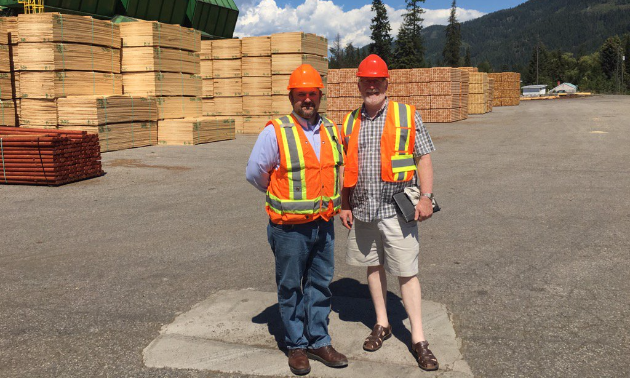 The BC Innovation Council, a Crown agency of the Province, is promoting regional innovation across British Columbia through the BC Growth Opportunities Tour (#BCGO) in Nelson. The tour aims to grow regional economies across the province by connecting companies with business challenges to local innovators.
#BCGO Fall 2017 is looking to build off the success of the inaugural tour, which took place earlier this year. Since February, over 600 connections have been made, six cross-sector deals have closed and over 30 deals are currently under discussion.
"The #BCGO tour gives eight presenting companies the opportunity to connect with local entrepreneurs to drive innovation and exchange ideas," said Bruce Ralston, Minister of Jobs Trade and Technology. "The tour's long-term goal is to help grow B.C.'s economy sustainably so that all British Columbians can reap the rewards, by supporting innovation to create jobs and boost regional economies."
This is the first time the #BCGO Tour has stopped in Nelson. Through #BCGO, the BC Innovation Council makes a concerted effort to bring opportunities to regions that aren't as closely connected to industry and government.
"By bringing opportunity where people work, it opens up innovation immensely," said Carl Anderson, President & CEO of the BC Innovation Council. "The #BCGO Tour promotes local innovation and creates meaningful business connections that can have a huge impact on regional economies across the province."
#BCGO Nelson featured eight presenting companies, which included IBM, Rio Tinto, and Nelson-based Atco Wood Products. Examples of some of the business challenges included:
FortisBC presenting a need to efficiently capture carbon from residential natural gas appliances.
Venture Kamloops presenting a need for data collection and analysis to determine lifestyle and quality of life measures for Kamloops.
Atco Wood Products presenting a need to develop a new use for woody biomass.
Nelson has a small but developing tech sector with over 40 tech firms that employ nearly 300 people. Nelson's success within the technology sector is due in large part to the Kootenay Association for Science & Technology (KAST), which supports a number of tech-related programs in the region. Selkirk College, which has three campuses in Nelson, has also committed itself to supporting young technology innovators throughout the Kootenays.
#BCGO Fall 2017 is off to an exciting start and will continue in Victoria for the third stop on the tour. For more information about the remaining #BCGO events, click here.
October 13th – Victoria
October 20th – Surrey
October 27th – Kelowna
November 3rd – Kamloops
About BC Innovation Council (www.bcic.ca)
BC Innovation Council (BCIC), a Crown agency of the Province of British Columbia, encourages the development and application of advanced or innovative technologies to meet the needs of industry in B.C. BCIC accelerates technology commercialization by supporting start-ups and developing entrepreneurs. With its partners, BCIC delivers programs and initiatives that promote company growth, resulting in jobs, increased revenue, and economic development in B.C.