ATCO Wood Products wins 2017 BC Export Award
Nine ambitious, highly-innovative British Columbia companies took home awards at the 2017 BC Export Awards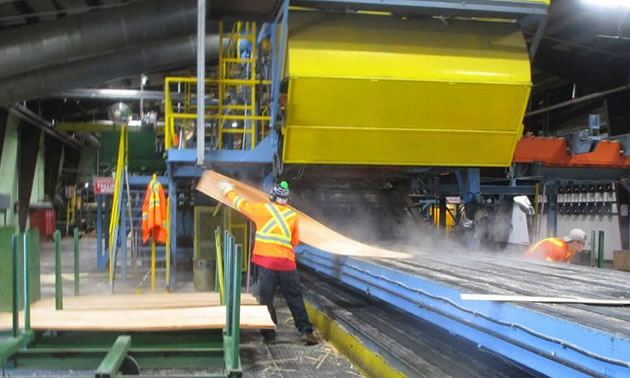 Nine ambitious, highly-innovative British Columbia companies with their sights set on pushing into new global markets took home awards last week honouring their commitment to international growth and continued expansion across the province at the 2017 BC Export Awards.
Port Coquitlam, BC based Finger Food Studios took home the top honour as the 2017 BC Exporter of the Year, as well as the Digital Media & Entertainment sector award.
Eight other companies distanced themselves from a competitive field of 24 semi-finalists to earn BC Export Awards in a diverse set of categories, including Clean Technology, Natural Resources, Consumer Products, Manufactured Products, Advancing Technology and Innovation, and Professional Services.
Among the other eight categories was Kootenay-based ATCO Wood Products of Fruitvale. ATCO won in the Natural Resources category.
The awards noted, "ATCO Wood Products is an independent, third-generation family-owned business located in Fruitvale, B.C. Since its beginnings in the 1950s, ATCO has grown into a leading wood products manufacturing and forest management company. With provincial forest licences and forest management contracts, ATCO manages over 300,000 acres of forests in the region and sustainably harvests over 250,000 cubic metres of timber annually. ATCO's softwood veneer manufacturing facility utilizes a large portion of the timber ATCO harvests, and produces high-quality veneer for the plywood and engineered wood products industries in Canada and the United States. In 2010, ATCO acquired the Nelson and Fort Sheppard Railway Co., which handles over 800 cars per year and links Fruitvale by rail with the North American railway network."
In addition, Mr. Robert Allan, Executive Chairman of the Board for Robert Allan Ltd., was named this year's Leadership Award winner for championing the cause of exporting in BC within his field of expertise (naval architecture and marine engineering).
Winning businesses are as follows:
Exporter of the Year – Finger Food Studios
Advanced Technology and Innovation – LMI Technologies
Digital Media & Entertainment – Finger Food Studios
Clean Technology – Saltworks Technologies
Consumer Products – Prepac Manufacturing
Emerging Exporter – VRX Ventures
Leadership – Robert Allan, Robert Allan Ltd.
Manufactured Products – VMAC Global Technology Inc.
Natural Resources – ATCO Wood Products
Professional Services – Ayogo Health Inc.

View the 2017 winners list online at www.bcexportawards.com/2017-winners.

The BC Export Awards annual awards program occurs in either Vancouver every fall and hosted by Business In Vancouver. The program pays tribute to the innovative approaches and contributions of Canadians and Canadian export companies and calls attention to the unique approaches they take to grow their business in what is sometimes a challenging market environment.
Congratulations to everyone at ATCO Wood Products.