47 Unit—$11.3M Affordable Housing Project Set To Go In Nelson
Nelson CARES Society will receive funding from BC Housing and other sources to redevelop Lakeside Place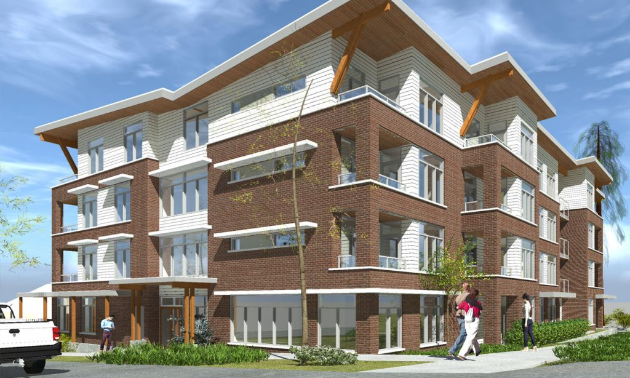 B.C. Housing awarded $6,300,300 in funding to a Nelson CARES project that will build 47 units of affordable housing, and then last week Nelson City council gave the project the final green light.
Nelson CARES Society will receive funding from BC Housing and other sources to redevelop Lakeside Place, an affordable housing development located at 805 Nelson Avenue (at the corner of Nelson and Kokanee Avenues). It is their goal that this new building will help address the need for affordable housing in our community, while at the same time creating an attractive building that will complement and add value to the neighborhood.
The proposed redevelopment will involve the demolition of the current buildings on the site, a functionally and physically obsolete former motel that currently provide 20 units of substandard affordable rental housing.
A new, four-storey, wood-frame building will replace the old development, providing 47 modern and affordable rental apartments. 42 one- and two-bedroom apartments are designed for seniors of low and moderate incomes, and 5 units will house adults with disabilities at risk of homelessness. The project also seeks to provide improved landscaping along the closed portion of Nelson Avenue. Parking will be provided underground.
The project will include:
6 two-bedroom units
36 one-bedroom units
5 studio units
Residential amenity room Outdoor amenity/recreation space
19 underground parking spaces
Sheltered bike and mobility scooter parking
At $11.3-million the project will be funded through BC Housing with additional funding coming from funding bodies like the Columbia Basin Trust, Canada Mortgage and Housing Corporation and the Nelson CARES Society.